An Invitation To WINNERS
<![if !vml]>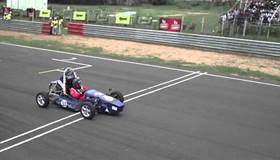 <![endif]>
You are a WINNER. You have earned your place through your determination, effort and sacrifices. Think of your days in college and just after that. You fondly remember those guiding stars who supported, mentored and inspired you. Now, it is your turn to repay them. By reversing roles. By seeking avenues to guide, inspire and support the next generation. I am pleased to lead you to one such opportunity.
There is a group of young, energetic budding engineers-to-be having a strong ambition to build a racing car on lines of Formula One! They are born optimists and firmly believe that they can conceive, design, develop and build their dream machine. They shall place their proud creation on the renowned world class FORMULA ONE RACING TRACK at Noida, India. They have four months to do this!
Their team is called VEGI RACERS. Their college, Jain University, Bangalore, will provide full technical guidance and infrastructure support. They need money. From someone who knows the joy of sharing, the excitement of success – YOU.
The Noida Event is no small fry. It is conducted by SAE, the most respected organization of engineers in the world. SAE has set standards of excellence in aerospace and automotive engineering. As part of their mission to inculcate students on innovation, design thinking and manufacturing excellence, they conduct this event every year. Their event attracts hundreds of Universities swarming to participate in this wondrous exercise. The Events receive sponsorships from top brands and companies. But the teams have to finance their project by themselves.
I am writing this to request and recommend a sponsorship. Sponsorship starts from Rs 10,000 (USD 150) to any higher amount upto Rs 10 lakhs. (USD 15,000). You can choose how much you are willing to chip in for this good cause. Once you indicate your willingness, I shall ask the Team to send you a formal request and they will take over thereon.
I also attach a brochure giving details of sponsorships and what they provide you in return in their own humble way.
Will you share the fruits of your success, please?
J Sridhar
The Rescue Foundation
Ph: +91-9900423057
www.jsridhar.com
Email: jsridhar@jsridhar.com